Desecrations of the 70s
I just found this website:
Interior Desecrations: Hideous Homes from the Horrible '70s by James Lilek, a brutal examination of the unlovely, unattractive, unlivable and unforgivable homes of the 1970s. All eras have some bad taste, of course – but it took the 70s to make bad taste triumphant and universal. It took the 70s to convince everyone to stick foil wallpaper on the wall, paint the bathtub purple, smother the floors in shag so deep it tickled the tops of your ankles, and hang art that managed to clash with everything, including itself.
Total crackup. I bought the book and can't wait to get it. I definitely remember some silver foil wallpaper in a bathroom growing up. It was silver foil with...was it an intertwined light pink velvet pattern? I thought it was pretty interesting at the time. Wish I had a photo of that now.
Hey Mom, remember that time I came home from boarding school and you had painted every single item in my room hot rosy pink? Hot pink with light pink accents. That was pretty crazy. I had a mostly white room before that, with a few yellow accents and natural wood, but after that it was ALL pink, all the time! Quite shocking. Literally *everything* in my room was painted. Too funny. With a muti-shaded pink braided rug too. Ha!
Too bad this James Lilek guy's apparently a venemous right-wing neocon nutcase in real life. But this stuff is funny, so oh well.
He also has a book on "Regrettable Food", but you know, I think nothing can possibly beat the Weight Watchers Recipe Cards from 1974, most entertainingly annotated by Wendy McClure.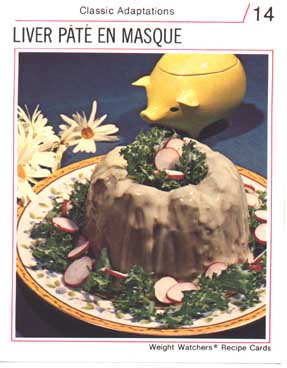 Snappy Mackerel Casserole, yum yum. And Jellied Tomato Refresher, served in a brandy snifter! Or the goodie at left, which was described as a "prolapsed anus" by one reader, and described using the term "bukkake" by another. Priceless!
Laughs, just laughs. And don't forget to read the page titles for each recipe, at the top of your browser.